Jurassic World: Dominion Dominates Fandom Wikis - The Loop
Play Sound
This article is about Beth Sanchez (C-500A). You may be looking for other versions of Beth.
Beth Sanchez (C-500A) is an alternative version of the original Beth in Dimension C-500A, in this dimension, she never married Jerry Smith or had any children. She was seen by her version Beth Smith through the Interdimensional Goggles of Rick in the episode Rixty Minutes to see what life without marrying Jerry would be like, she is also the daughter of Rick Sanchez (C-500A).
History
Beth Sanchez had the same backstory as most other Beths up until after she was accidentally impregnated by Jerry on prom night in high school. However, unlike most other of her counterparts, this Beth has aborted the fetus, which growing up would become her daughter Summer, and having never married, not even her son Morty was never born. She and Jerry split up after this with Jerry most likely studying to become an actor and Beth going to medical school.
Beth graduated medical school and became a surgeon at some hospital, but did not end up finding a new romantic partner. Instead drowning her sorrows in wine and surrounding herself with exotic birds in her house.
Appearance
Beth holds the same looks as other Beths with shoulder-length blond hair, and pale skin. She dresses herself in a red collar shirt and blue pants when she's not at work.
Personality
Beth is a successful lonely woman living on her own. She fights her loneliness by surrounding herself with a lot of exotic birds in cages. She has also inherited her father's alcoholic tendencies with drinking herself drunk on wine on a daily basis. This is also to cope with her loneliness, which came as a result of her sacrificing everything to become a surgeon. She is also clearly intelligent as she did become a surgeon.
Biography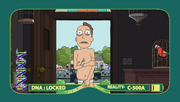 In her adult years she is still single and living on her own with her birds while drinking large portions of wine each day. One day she is visited by a panicked, drugged, half-shaved Jerry in his underwear after he had suffered a mental breakdown as a result of living a life of self-loathing and regrets. He says he's been in love with her since high school, hates cocaine and Kristen Stewart, and wished she never had the abortion because of what they could've been. Beth starts crying before hugging Jerry, while being filmed by news helicopters.
Beth and Jerry started an "on-again, off-again" relationship as a celebrity couple. They publicly announced at least four breakups over the spans of four months at the Golden Globes. They had also considered adopting a vast number of children as a relationship fix, but they got too busy fighting over where the babies' countries were located on a map. Jerry rebounded from the failure of "Last Will and Testimeow: Weekend at Dead Cat Lady's House II" by starring in the surprise hit "Cloud Atlas 2: Too Atlas, Too Furious."[1]
Trivia
The greatest difference between Beth Sanchez and Beth Smith is that this Beth either didn't get a flat tire on her way to the abortion clinic, or she didn't take it as a sign to not go through with it.
In a deleted scene from the episode, she is visited by her father Rick who freezes and kills Jerry when he comes to bring her bird feed.
References