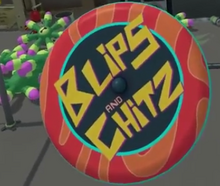 Blips and Chitz is an intergalactic arcade.
History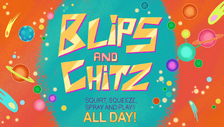 Blips and Chitz is introduced in the episode "Mortynight Run". Blips and Chitz is an arcade themed building where Morty plays a virtual reality game called "Roy: A Life Well Lived", where he lives through the entire life of a man named Roy up to the age of 55.
When Morty returned, he was furious at Rick for selling a gun to the assassin Krombopulos Michael for a single afternoon at Blips and Chitz. Rick didn't care for what Morty had to say and proceeded to take his turn in Roy: A Life Well Lived.
In the post-ending credits epilogue for the episode, they featured a commercial for the episode where Rick starred in. In the commercial an alien can be seen getting teleported into a game and getting shot and another alien can be seen getting decapitated.
In the Comics, Rick and Morty are consistently visiting Blips and Chitz.
In Pocket Mortys, there are Blips and Chitz Express machines located all over the various dimensions. Here you can buy Mortys using Blips and Chitz Coupons.
Location
We are not told where Blips and Chitz is, but the ceiling window shows that it's in space rather than on a planet. The events of "Mortynight Run" also suggest that it is somewhat near a Federation outpost and the garage in which Morty first meets Krombopulos Michael.
Trivia
In the mobile game Pocket Mortys, they misspelt "Blips and Chitz" to "Blitz and Chitz." This was fixed in a later update however.
If you switch the last two letters in "Blips and Chitz" around, you either get "Blitz and Chips" or "Chips and Blitz".
The Blips and Chitz logo can be seen on a frisbee in the virtual reality game Virtual Rick-ality. It can be found on Rick's shelf.
Community content is available under
CC-BY-SA
unless otherwise noted.