BlurtFeed is an intergalactic media, news and entertainment company, providing their products and services throughout the Galactic Federation.
History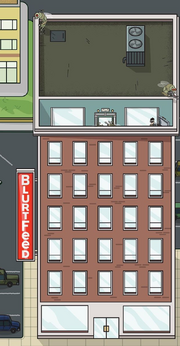 BlurtFeed established a new office on Earth after it became inducted into the Galactic Federation. The employees kidnapped humans in the city and chained them to desks where they were forced to write Internet articles until they died. Summer applied for a job at BlurtFeed, but did not get it.[1] The office building was abandoned after the fall of the Galactic Federation.
Content
It produces a number of pop culture articles on subjects such as lifehacks, memes, lists with advices or relateable subjects, and people trying something new. The "volunteers" brought in to try new things are usually humans forced by the BlurtFeed workers and left incapacitated or mentally scarred.
Articles and videos
"Eight Things only 750 Million-Year-Old Cosmic Entities Will Remember"
(a list of eight events experienced, and objects owned, by cosmic beings)
"HOW TO KEEP YOUR HORDES OF OFFSPRING AT BAY"
(a video with five ways for Bliznarvians to stay in control of their offsprings)
"Lifehack: How To Catch All Of Earth's Hottest Diseases"
(an article about how to contract the most diseases and infections on planet Earth)
"The #BasicHuman meme is TOO PERFECT!"
(an article showcasing 10 examples of the meme "#BasicHuman, which uses a picture of Jerry)
"5 TIPS FOR ACQUIRING A ROMANTIC HUMAN COUNTERPART"
(a list of five ways for alien visitors to date humans on planet Earth)
"GLORP DIE BLORP: "TEN TUESDAYS AT TINKLES""
(a video of GlorpDieBlorp playing the survival horror game "Ten Tuesdays at Tinkles")
"HUMANS TRY TIME-PHASED SWEETS"
(a video where kidnapped humans are forced to eat spacetime-phased candy)
"FIVE FEDERATION-MANDATED LIFE HACKS"
(a list of five lifehacks mandated by the Galactic Federation on planet Earth)
"7 PIECES OF BINARY CODE TO MAKE YOUR PARTNER GO WILD"
(a list of seven pieces of binary code)
"You WISH You Lived in These AMAZING Luxury Homes"
(an article about how the Property Clones are doing now and what they can offer)
Trivia
References
Community content is available under
CC-BY-SA
unless otherwise noted.