Wiki Targeted (Entertainment)
Play Sound
Calypso was a sorceress and former member of The Vindicators, who died on their second adventure, along with Lady Katana and Diablo Verde.
Appearance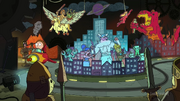 She was never seen, but she was mentioned in "Vindicators 3: The Return of Worldender". She dresses as a shaman with a large feathered headdress, facepaint, and gold jewelry, and wields a magic staff. Calypso can apparently summon blue flames from her hands, but the full extent of her powers is unknown.
Trivia
The name Calypso refers to a style of Afro-Caribbean music that originated from African slaves working on sugar plantations in the Caribbean and Cuba.
She is a parody of Enchantress from Suicide Squad.