House of the Dragon Trailer - The Loop
Play Sound
Christina LaCroix (C-1239) is the best friend and girlfriend of Summer Smith (C-1239). Together, they are two of the most popular girls at their school.
History
Christina befriended Summer due to the girl's confidence in herself. They would both become really popular at the high school and form a group of friends. Summer accepted her own attraction towards girls and kissed Christina as a result.
Biography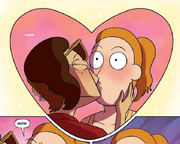 Christina went to the mall with Summer C-1239, along with their group of friends, where Summer C-1239 decided to try on a top. While changing, she was ambushed by Summer who knocked her out and took her place. Christina thus spent the day at the mall with Summer, who was oblivious to the relationship between Christina and Summer of this dimension. After being called "best friend", Christina mentioned how Summer C-1239 recently kissed her, which took Summer by surprise. Summer ran off, leaving Christina waiting on a bench.
Summer returned later with ice cream and apologized for running off. The two shared a kiss before being interrupted by Rick and Morty (Summer's brother and grandfather), much to Christina's confusion. She became only more confused when Summer (C-1239) returned and started to fight Summer. After Rick had explained this dimension to his granddaughter, Christina and Summer (C-1239) started kissing.
Trivia
It is not known if this version of Christina has a dog.
Christina likely has French ancestry, because "LaCroix" is a very common last name in France.