Doctor Strange in The Multiverse o Madness - The Loop
Play Sound
This article is about Cronenberg Morty. You may be looking for other versions of Morty.
"

I'm going to, y'know, miss Cronenberg world because everyone was Cronenberged all along like us from the beginning, y'know? I mean I wish we hadn't genetically ruined Cronenberg World beyond repair like we did, y'know, and turned everyone into regular normal people.

"

—Cronenberg Morty to Cronenberg Rick
Cronenberg Morty is a version of Morty Smith who originates from Cronenberg World. In the episode "Rick Potion No. 9", Cronenberg Rick and Cronenberg Morty take a portal to a "Cronenberged" version of Earth after they discovered that C-137 Rick turned the entire population of Earth, except Beth, Jerry and Summer, into Cronenbergs. Cronenberg Rick and Cronenberg Morty did this because they turned the entire population of Cronenberg World into normal Humans and wanted to live in a world where they would fit in.
Biography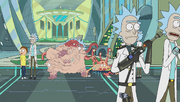 In "Close Rick-Counters of the Rick Kind" Cronenberg Rick and Cronenberg Morty make a cameo appearance in the background as Rick and Morty were being escorted through the Citadel of Ricks.
In The Rickshank Rickdemption, many Mortys are killed when the Citadel of Ricks is transported into a prison of the Galactic Federation, it is unknown if Cronenberg Morty is one of the Mortys who died.
"

This Morty is from that episode of Rick and Morty where everyone don gets straight Cronenberged up, broh.

"

—In-game description
Cronenberg Morty is a Normal-type Morty in Pocket Mortys. He can't evolve.
Trivia
He, alongside Cronenberg Rick, are the only Cronenbergs shown to be capable of human speech and thinking.
Ironically, Cronenberg Morty is seen wearing ripped remains of regular human clothings that most versions of Morty wear, despite having been born a Cronenberg.