Cobra Kai Season 4 - The Loop
Play Sound
This article is about Cronenberg Rick. You may be looking for other versions of Rick.
"

Here we are Cronenberg Morty, a reality where everyone in the world got genetically Cronenberged. We'll fit right in Cronenberg Morty. It will be like we never even left Cronenberg World.

"

—Cronenberg Rick to Cronenberg Morty
Cronenberg Rick is a version of Rick Sanchez who originates from Cronenberg World. He and his grandson moved to the Cronenberged dimension after everyone there were turned into Cronenbergs.
Biography
In the episode "Rick Potion No. 9" Cronenberg Rick and Cronenberg Morty take a portal to a recently "Cronenberged" version of Earth after they discovered that C-137 Rick turned the entire population, except Beth, Jerry and Summer, into Cronenbergs. Cronenberg Rick and Cronenberg Morty did this because they accidentally turned the entire population of Cronenberg World into normal Humans and wanted a world where they would fit in.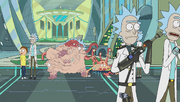 In "Close Rick-Counters of the Rick Kind" Cronenberg Rick and Cronenberg Morty were in the background as Rick and Morty were being escorted through the Citadel of Ricks.
In The Rickshank Rickdemption, many Ricks are killed when the Citadel of Ricks is transported into a prison of the Galactic Federation, it is unknown if Cronenberg Rick is one of the Ricks who died. If he was able to survive that case, it's unknown if he was present and died during the destruction of the Citadel or left it and survived his likely demise.
In Rick and Morty Issue 45, it's shown that after spending months in Cronenberged dimension, he has gone crazy and assembled a team of most evil Ricks in the multiverse, consisting of Nega-Rick, Sci-Fi Politician Rick, Killer Droid Rick and Black Magic Rick to free Old God Rick from his prison so he can raze the multiverse and grant them unlimited power. However, Summer from this dimension stopped them by blowing up their base with a neutrino bomb attached to Rick C-137's old spaceship. It's unknown if this is how he actually died, though.
Appearances
Trivia
He, alongside Cronenberg Morty, are the only Cronenbergs shown to be capable of human speech and thinking.
It's not known if Cronenberg Rick's death in the comics applies to the TV series.