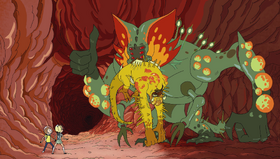 Diseases are characters that are featured in the episode Anatomy Park. They are found inside the attraction also named Anatomy Park, inside the homeless man Ruben.
Tuberculosis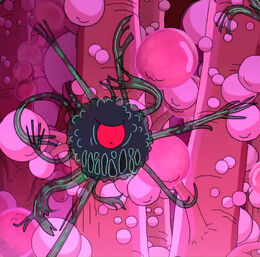 Tuberculosis
is a lung disease. They are portrayed as monstrous, spider beings, living in
Ruben's
lungs.
The tuberculosis infecting Ruben were dormant until sabotaged by Poncho.
Gonorrhea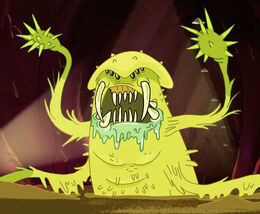 Gonorrhea resides in Ruben's intestines. It confronted the gang while they were in the small intestine and almost killed them, but was blown up by Poncho when a lit match was thrown into the gas clouds of Ruben's GI tract. 
Hepatitis A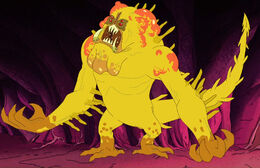 Hepatitis A
is a giant, monstrous being based on the monster from the movie
Cloverfield
, living inside of
Ruben
. Hepatitis A was infecting Ruben's liver until it came across
Morty
and the gang. It wasn't until the very end of the adventure when Morty and
Annie
had their final encounter with Hepatitis A, when he was just about to kill them, only to be stopped by Hepatitis C.
Hepatitis C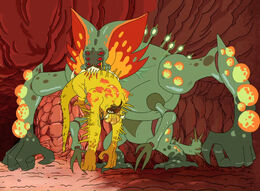 When Morty and Annie were being chased by Hepatitis A, Hepatitis C appears and grabs Hepatitis A with its jaws, saving their lives. Hepatitis C gives them a thumbs up before walking away, carrying Hepatitis A away in its mouth.
Bubonic Plague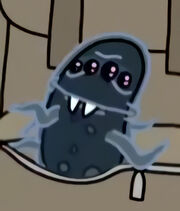 Bubonic Plague
(also known as
Black Death
) is a rare but serious bacterial infection that's transmitted by fleas.
Poncho
attempted to smuggle some of the plague out of
Ruben
to sell to the highest bidder. Bubonic Plague bites Poncho on the shoulder, causing him to stumble off a high balcony to his death.
E. Coli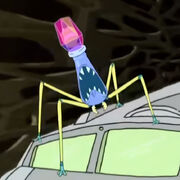 E. coli is a portrayal of E. coli, a bacterium that is commonly found in the lower intestine of warm-blooded organisms. A swarm of E. Coli attacked and killed Dr. Xenon Bloom on a railway station, as well as Morty and Annie, who managed to escape most of them by train, but some of them managed to get on the train. This version of E. coli appears to be a bacteriophage as opposed to an actual bacterium.
Community content is available under
CC-BY-SA
unless otherwise noted.