Jurassic World: Dominion Dominates Fandom Wikis - The Loop
Play Sound
This article is about Doofus Rick. You may be looking for Doofus Rick (comic series) or other versions of Rick.
Rick Sanchez of Dimension J19 Zeta 7, commonly known as Doofus Rick, is the least respected of all the Ricks. He first appeared in the episode "Close Rick-counters of the Rick Kind." Other Ricks claim that Doofus Rick's home dimension is themed around people eating their own feces; on the Blu-ray/DVD commentary track for "Close Rick-counters of the Rick Kind", however, Justin Roiland has confirmed that Doofus Rick does not actually do the aforementioned action, which means the other Ricks are merely bullying him. Doofus Rick was a member of the Citadel's militia.
History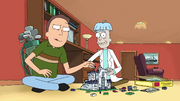 Doofus Rick never married and never had any children, so his Morty was assigned to him from another reality where everyone looks like Eric Stoltz from the movie Mask. In his debut appearance, he befriends Jerry, and he seems to be the only Rick who genuinely likes him. He returns at the end of the episode, where he simply waves at Jerry from the street on a rainy evening. This is noticed by the main Rick who is amused by the friendship Jerry has with Doofus Rick and goes to call other Ricks about this.
In "The Rickshank Rickdemption," many Ricks are killed when the Citadel of Ricks is transported into a prison of the Galactic Federation. It is unknown if Doofus Rick is one of the Ricks who died.
Personality
Doofus Rick is the kindest and sweetest of all the Ricks. He approached Jerry during the investigation at the Smith house and engaged him in conversation, expressing genuine interest in Jerry's life and abilities; perhaps because they were both ostracized and mocked by the rest of the Ricks present, the two quickly bonded.
Doofus Rick's inherently kind and accepting nature came through when Jerry showed him his collection of R2-D2 quarters and asked for his opinion on them.
"

I'm not going to tell you these coins will increase in value, or even hold their current value. The truth is, you bought 'em because you like 'em. They have value to you. That's what matters.

"

—Doofus Rick to Jerry
Despite being deemed a "doofus", Doofus Rick was able to create ovenless brownies with Jerry by mixing chemicals and substances. This hints that Doofus Rick only looks unintelligent, and is actually quite scientifically skilled and resourceful. This is further hinted, as he was able to return to the Replacement Dimension, suggesting he can use a portal gun. His interactions with Jerry indicate he may be more emotionally intelligent than other Ricks.
Doofus Rick is a rival Morty Trainer in the game Pocket Mortys.
Dialogue
Pre-Battle
"

Don't make fun of my Mortys, Rick. They're the best I have. I'm just getting good! Look, I'll show you.

"
"

If your Mortys mean something to you, that is all that matters. Be kind and gentle and they will love you in return.

"
Post-Battle
"

Don't rub it in, Rick. I know I lost. I never win anything.

"
Appearances
Other Media
Trivia
Gallery