Doctor Strange in The Multiverse o Madness - The Loop
Play Sound
Elon Tusk is the CEO of Tuskla and friend of Rick Sanchez. He is a multiverse variant of the business magnate, Elon Musk, from the Tusk Dimension.
Personality
Elon Tusk was described by Rick to be less controlling than the human-version of Elon, but stills shows similar controlling behavior. He is aware of the fact that there exists different versions of him in different realities, and does not seem bothered by it. He remarked to Rick that growing up with large tusks posed social challenges and made this version of Elon more prone to collaboration.
Biography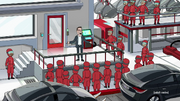 This version of Elon grew up with tusks larger than those of other inhabitants in his dimension, which somewhat lowered his self esteem. He met Rick Sanchez at some point and became aware of the multiverse, as well as other alternate versions of himself. He founded the car company Tuskla, which produces electric cars with tusks on the front.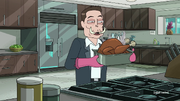 In the episode One Crew over the Crewcoo's Morty, he was confronted by Rick and Morty Smith at his factory, who requested his help for a team operation against Heistotron. He agreed to assist them and joined their crew, which included Ventriloquiver, Hephaestus, Mr. Poopybutthole and Randotron. While the crew was planning the details of their heist in the The Garage, they realize Heistotron had already heisted Earth. This is when Randotron decides to begin their heist, shooting darts at each member of the crew, causing them to perform a random task that would ultimately defeat Heistotron. Elon rushed to a kitchen, took a cooked turkey out of the oven and replaced it with random items from the fridge, where he then stored the cooked turkey. They all ended up in Heistotron's ship, which Rick revealed his really convoluted plan and defeated both Heistotron and Randotron. As the spaceship was collapsing, Rick opened a portal back to Elon's reality and pushed him through it.
Trivia
Tuskla is a parody of the real-life American electric car manufacturer, Tesla.
Elon Tusk is a parody of, and voiced by, Elon Musk.
The only meaningful difference between Elon Musk and Elon Tusk appears to be the tusks, and some slight humility because of them.
When Rick starts playing Minecraft, Elon Tusk remarks that his kids play the game.
Episode Appearances