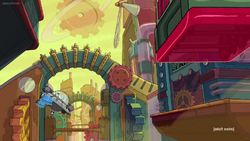 Gear World is a planet located in the Gear System. It's the home of Gearhead and other Gear People, and is a part of the Galactic Federation. It made its first appearance in the Rick and Morty episode, "Mortynight Run."
History
Rick and Morty brought Fart to Gearhead's workshop on Gear World after escaping the Galactic Federation. They were quickly betrayed by Gearhead who tipped off the police on their location. The ensuing spaceship chase went through a gear city where a large part of the city was destroyed when Fart showed a vision to one of the gear police officers, making him steer his ship into another creating a chain reaction. This allowed Rick, Morty, and Fart to escape.
Gear World did not see much change after the downfall of the Galactic Federation. Shortly after The Vindicators disbanded, Gear World experienced an alien terror attack, though its outcome is not known.
Society
Gear World appears to be similar to Earth, except everything is gear-themed. All food is gear-shaped, and most likely made of gears. The planet is likely made of metal, and the cities are very industrial. Although they are robots, they still have genders, age, and feelings. They attend educational institutions called "gear school", which they progress through as they age. They can choose to go gear college as well.
Culture
A number of wars have been fought on Gear World, called the Gear Wars, starting 754 years prior to the events in the episode "Ricksy Business". Festivals like Geartober are annual events on Gear World.
Twigs are considered highly dangerous to Gear People as they will intertwine with their gears and possibly stop different functions. Gearhead kept his twigs in a box labeled with a skull and bones, which might be a common practice on this planet.
Geartown is a city on Gear World and home to Gearhead's workshop, Cogspot. The city was heavily damaged during the federation's chase after Rick and Morty, and was again damaged when an alien terror attack occurred after the end of The Vindicators. The city has a number of shops, like "Bed, Bath & Gears", and markets.
Appearances
Gallery
Community content is available under
CC-BY-SA
unless otherwise noted.