Guilty Rick is a Rick variation from the game Pocket Mortys.
Description
Guilty Rick is shown to look identical to the Rick you play as, but he is shown holding a skull and his eyes are half closed. The skull he is holding looks to be too wide to be his and is thought to be the skull of his Morty, now dead.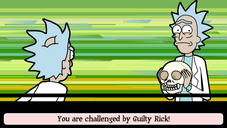 Guilty Rick is thought to be the maker of the Test X1, Test X46 and Test X72 Mortys found in the game, since the descriptions of the Mortys show that they were made by "A guilt ridden Rick trying to bring back his lost grandson". Guilty Rick also says that he has "Seen things, terrible, Morty related things" and that his "Mortys will go down with the truth and I shall never speak of it". This shows that Guilty Ricks Mortys knew his original Morty, and most likely know how they died, hinting that Guilty Rick's original Morty died while fighting against other Mortys.
The descriptions of the Test Mortys says that their Ricks spent their 'dying days' making them, and since Guilty Rick is still alive, this goes against the theory of the test Mortys being Guilty Ricks creations.
Community content is available under
CC-BY-SA
unless otherwise noted.