Jurassic World: Dominion Dominates Fandom Wikis - The Loop
Play Sound
Hologram Rick was a program Rick installed into Morty's spine in case he died to give Morty instructions on how to revive his Rick. He was later killed by Wasp Rick after becoming a physical being. He serves as the final antagonist of the episode Edge of Tomorty: Rick Die Rickpeat.
Personality
Hologram Rick was very aware if his status as a hologram and felt that calling the physical Rick the "real Rick" was holophobic. He considered all physical beings "density privileged entities", and took most of Morty's actions to somehow be considered offensive to non-physical beings like himself. He also considered Rick to be an AI racist for thinking he gained sentience and tried to take over. This all later turned out to stem from his discontent as a hologram, which he admitted after becoming physical.
He was programmed to be more tolerant than regular Rick in order to guide Morty into reviving his Rick. He was also afraid of Wasp Ricks, even though he was a hologram and couldn't be harmed by them.
Biography
Hologram Rick was a AI program created by Rick and installed into Morty's spine to guide Morty into cloning Rick if he ever were to die, which happened on Forbodulon Prime. Hologram Rick was unable to convince Morty, who would rather follow a Death Crystal. Rick self replicated and started protesting Morty's unwillingness to revive Rick, but stopped when Morty threatened to flush away Rick's DNA. He questioned Morty on what death he was intent on pursuing, but quickly understood it to involve Jessica. He later returned while eating a bucket of hologram chicken and was offended when Morty asked why he pretended to eat chicken, sparking an argument on nutrition and food.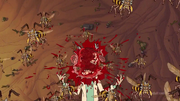 When Rick and Wasp Rick entered Rick's garage and found several weapons missing, Rick summoned Hologram Rick and accused him of growing sentience and trying to take over. Hologram Rick immediately called the accusation AI racism, before leading to the two wasps to Morty in the desert. They cut off Morty's connection to the ferrofluid, but it then latched onto Hologram Rick and turned him into a huge physical being. Happy to finally have mass, Rick proclaimed himself a god and attacked the two other Ricks. Wasp Rick managed to get in a sting on his left eye and laid eggs inside. The eggs immediately hatched into larvae that ate the insides of Rick's head and cracked open his face to fly out as wasps.