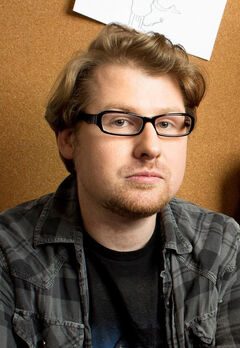 Justin Roiland is a writer, animator, director, producer and the co-creator of Rick and Morty as well as the voice of Rick and Morty.
Biography
Roiland was born on 21th February, 1980. He grew up on an almond orchard in Manteca with his parents, he has a younger sister named Amy Roiland, a fashion designer. He is well known for being the voice of Oscar on Disney Channel's animated series Fish Hooks, Blendin Blandin on Gravity Falls, and the Earl of Lemongrab on Cartoon Network's popular animated series Adventure Time. He is also well known for his Channel 101 shorts he made in his early career, including such shows as House of Cosbys, starring a man who lives with 100 Bill Cosby clones, and 2 Girls 1 Cup: The Show, an adaptation of the infamous Internet meme, where a cup unsuccessfully tries to have his two roommates take a shit in him.
Voices
Crew Credits
Writer
Director
Trivia
Justin owns two dogs, with "Jerry" being the inspiration for Snuffles.
From 2010 to 2013, he co-hosted The Grandma's Virginity Podcast with Ryan Ridley and Jackie Buscarino.
Provided additional voice work for the Pocket Mortys game.
Justin is the writer of the humorous descriptions for every episode.