Jurassic World: Dominion Dominates Fandom Wikis - The Loop
Play Sound
Lord Henderfinger was a Lord from the Post-Apocalyptic Dimension who appeared in "Rickmancing the Stone". He ordered the death of Armothy's village and family, who returned to avenge them. He is ultimately strangled to death by Morty and Rick.
Biography
He comes from a wealthy family and doesn't have to deal with any of the true fighting and bloodshed that others need to do to survive. He owns slaves who do all his work for him. He sent his slaves to burn down Armothy's village along with his family.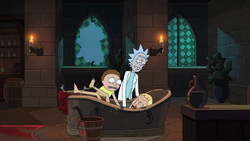 He is later found, while bathing and scrubbed by Taint Washer and Genital Washer, by Morty with Armothy and starts making frightened excuses for his actions. He is strangled by Armothy while Morty and Rick watches, but Armothy disappears before Henderfinger fully dies. While lying in his bathtub, Rick takes Morty hand and places it around the Lord's throat. Together they strangle him to death.
Appearance
Lord Henderfinger is a scrawny man with large lips and short yellow hair. He has a long nose, noticeable cheekbones and a long neck.
Personality
He is a cowardly man who gives degrading names to his slaves and threatens them, should they make any mistakes. He is quick to come up with excuses for his behavior and blame his family for how he turned out. His sadistic actions resulted in the death of Armothy's family and destruction of their village.
Trivia
His name was stated by character designer Kendra Melton in an Instagram post
His name is a joining of the words "Hender" (Norwegian word for "hands", and similarly spelled in Danish and Swedish) and "finger"
He bears a slight resemblance to Joffrey from the show "Game of Thrones".