The Mega Gargantuan Republic is home to the Mega Gargantuans and ruled by the Presidentress of The Mega Gargantuans. It is located in the Amazon rainforest in Brazil on Earth in the Replacement dimension.
History
The republic was discovered by humans in "The Rickchurian Mortydate", who was gigantic compared to the tiny people. The Mega Gargantuans immediately declared war against the gigantic humanoids (Humans) and launched missiles at the presumed hostile creatures. Rick and Morty were quick to visit the Presidentress and agree on a ceasefire, with The President of the United States reaching the city, shrinking down and meeting the Presidentress a short time later. The President left the city once he learned Rick and Morty had already been there.
Layout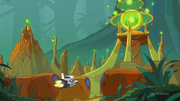 The republic is structured in a circular shape round the main tower, which functions as the home of the Presidentress. Walls are built to create smaller round areas, each with a tall tower in the center acting as defense mechanism and power source. There are a total of eight round walled areas within the republic.
Regions
The outermost region of the city is agricultural, with different colored crops filling the available plains. The next region is the more populated with towers and mounds spread out across the grounds. This marks the beginning of the city and appears to hold less light than the more central areas. The second most inner region consist of three walled-in circular districts, where the areas are more red colored compared to the outer regions' brownish colored landscape. The innermost region is the home of the Presidentress and her tower. This area is orange colored, due to being most illuminated region.
Defenses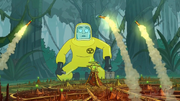 The city is equipped with numerous nuclear missiles, turrets, and high walls. Being located in the Amazon, it can be assumed the city possesses an impressive array of defenses in order to fend off bugs, reptiles and other gigantic creatures inhabiting the rainforest.
Community content is available under
CC-BY-SA
unless otherwise noted.