"

I put an unbounded vacuum inside a temporal field until a world developed.

"

—Zeep on the creation of the Miniverse
The Miniverse was a microscopic universe that existed within the Microverse, another microscopic universe. It was created by a Microverse inhabitant, Zeep Xanflorp as a way of powering his Microverse, without the use of the Gooblebox.
History
The "Miniverse" was created by Zeep, who would become known as "Zeep the alien", in order to make the "Gooblebox" in his own world obsolete. Once life had settled and intelligent creatures emerged, he traveled into the Miniverse and set up a system to provide them with eletricity by using his invention; the "Flooblecrank". For this they built him a statue in the middle of their city.
Zeep later returned with Rick Sanchez and Morty Smith to show them the world he created. Rick, figuring that someone in this universe would probably create a miniature universe to replace the "Flooblecrank", found the scientist Kyle and was invited to visit his newly created universe, the Teenyverse. After Rick, Morty and Zeep returned from the Teenyverse (Kyle having killed himself), they exited the Miniverse and Rick destroyed it.
Nature
Time in the Miniverse flows at a faster rate than in the Microverse. They generated all their energy with a device called the Flooblecrank, and were unknowingly exploited to provide energy for Zeep. Vegetation and plants were an integrated part of the main city, with rivers connecting between households and forests surrounding them. Large pipelines were connected through these forests and into a mountain, where the "waste power" from the city was sent to be disposed of.
Inhabitants
The Miniverse was inhabited by white creatures with a doughy-like appearance like the scientist Kyle. They all appeared to be of similar body shape and skin color. The creatures had a distinct lack of neck, nose, nipples, toes and genitalia; giving them a very cartoony look. It's not known how they reproduced without reproductive organs, though women did appear to possess breasts. It appeared equally common to have, and to not have, hair on their head.
Culture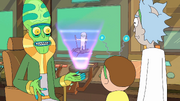 The inhabitants did not appear to consider clothes mandatory, as several individuals were seen without either shirts or pants. The scientist Kyle only ever wore an open lab coat. The main city of this world is powered by electricity, which they obtain by using the "Flooblecrank". They were on the verge of replacing this device with their on Teenyverse, but their main scientist Kyle never finished it.
See also
Community content is available under
CC-BY-SA
unless otherwise noted.