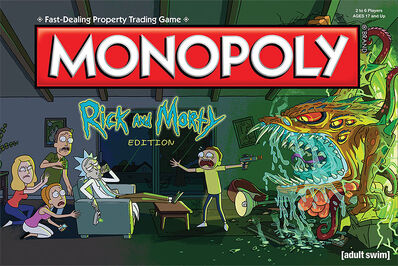 Product Description
Join Rick and Morty and the Smiths as you gallivant your way to victory by buying, selling and trading locations from the Multiverse including the Cromulon Dimension, Gazorpazorp and Planet Squanch (not to mention a few places from your own Earth realm. Featuring collectible tokens, Flooble Cranks, Gooble Boxes, custom Flurbo currency, and more!
Product Details
Full Color Rick and morty game board
16 "Get SHWIFTY" Cards (Community Chest)
16 "Interdimensional Cable" Cards (Chance)
6 Collectable Game Pieces
2 BLUE Dice
"Flurbo Currancy" (Monopoly Money)
12 Goobule Boxes (Hotels)
32 Floogle Cranks (Houses)
28 Title Deeds
Genuine Rickdiculousness
The Adoration of All
Property Spaces
(Purple)
(Light Blue)
(Fushia)
(Orange)
(Red)
(Yellow)
(Green)
(Dark Blue)
(Railroads)
(Utilities)
(Penalties)
Game Pieces
'Citadel of Rick's' Comm Badge
Gallery
Community content is available under
CC-BY-SA
unless otherwise noted.