The On a Cob Planet is a distant planet in the Milky Way Galaxy that looks very similar to Earth. It appeared in the episode "The Wedding Squanchers", where the Smith Family moved, having to avoid capture by the Galactic Federation.
Nature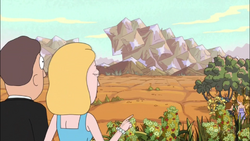 On this planet, everything is on a cob, even mountains and creatures and animals, down to the atomic level. It contains breathable air and, apart from everything being on a cob, is said to greatly resemble Earth. It's one of only three planets outside of federal jurisdiction similar to Earth, in the Milky Way.
Story
The Smith family sought refuge at this planet after escaping the Galactic Federation at Birdperson and Tammy's wedding. At arrival, the Smiths were excited about the different ecosystem, with a lot of things being on a cob. It turned out that everything on this planet, even the atoms, were on a cob. When Rick realized this, he was visibly disturbed, hauling the family off of the planet as quickly as possible.
Trivia
References
Community content is available under
CC-BY-SA
unless otherwise noted.