Planet Squanch is a planet that appeared in the episode The Wedding Squanchers. It is the planet where Squanchy comes from and it is 6,000 light years away from Earth.
Appearance
Everything seen on Planet Squanch is either undisturbed nature or houses of inhabitants. These houses greatly resemble playing racks meant for cats with ladders, different levels and toys on strings.
The planet's ground is covered with red grass. A native plant on this planet is a succulent-like plant called "suckulents", which will suck out a human's blood in seconds flat.[1]
History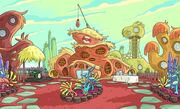 Birdperson and Tammy, for unknown reasons, decided to hold their wedding on this planet. They invited a large group of friends and acquaintances to this special occasion, all of which were criminals in the eyes of the Galactic Federation. The Smith Family attended the wedding against Rick's wishes. Squanchy wed Birdperson and Tammy on a beach before a setting star.
Later at the wedding reception, Tammy exposed herself as an undercover agent for the Galactic Federation and shot Birdperson before Gromflomites crashed in through the roof and raided the event. The ensuing shootout killed most of the guests, with Squanchy's fate unknown. The Smith family managed to escape in a flying catering van.
References
Community content is available under
CC-BY-SA
unless otherwise noted.