Quantum Rick was one of the six members of the defunct Council of Ricks and possibly its only surviving member.
History
TBA
Appearance
Quantum Rick shared the general appearance of the titular Rick Sanchez but sported a puffier hairstyle.
Personality
TBA
Gym badge:

Quantum Rick is the second council member that the player battles. To challenge him, the player must beat four Ricks in other dimensions and earn four more badges.
Trivia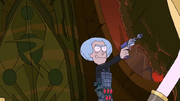 Because the Series 9000 Brainalyzer had been in the ship that Rick C-137 (in Commander in Chief Rick's body) ordered to be destroyed, it could not have been used to switch bodies with Quantum Rick.

This implies that Rick C-137 either murdered Quantum Rick and stole his clothing or Quantum Rick left the clothing behind to not seem like a high target when escaping. The former of the two theories is most likely.
Episode Appearances
Other Media
Community content is available under
CC-BY-SA
unless otherwise noted.