Quantum Rick was one of the members of the former Council of Ricks and perhaps its only surviving member. His body was possibly taken over by Rick C-137 in "The Rickshank Rickdemption" in order for him to fool the other council members and assassinate them; however, as the modified brainalyzer that Rick C-137 used to take over other Rick's bodies may have been destroyed before he encountered Quantum Rick, then the possibility that Quantum Rick escaped into exile or was assassinated by Rick C-137 (while occupying Commander in Chief Rick's body) whom then took the guise of Quantum Rick to deceive the rest of the Council is plausible.
Appearance
Quantum Rick shares the general appearance of the titular Rick Sanchez, but sports a puffier hairstyle.
Possible Fate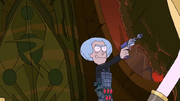 Because of the fact that an encounter between Quantum Rick and Rick C-137 is never seen in "The Rickshank Rickdemption" there are many possibilities of Quantum Rick's fate. One of them being that he could have escaped the destruction of the Citadel of Ricks and the subsequent assassinations of its Council members.
If the modified brainalyzer had been destroyed in the ship that Commander in Chief Rick (under Rick C-137's control) ordered to be, then it could not have been used to switch bodies with Quantum Rick. Furthermore even if it had not been destroyed it would prove difficult for Rick C-137 to still use it while it was on the ship after he himself had already transported off of said ship.
Immediately after Rick C-137 transported the Citadel into the Galactic Federation Prison; with the exception of Quantum Rick all of the Council members, Morty, Summer, and Lawyer Morty, can be seen in the Council's main chamber in a state of disarray. Quantum Rick's absence could mean he had escaped the impending destruction while his contemporaries were distracted by the devastation. The motives for his leave could be to selfishly save himself, help the situation, or perhaps he was in collusion with Rick C-137; although this remains unclear.
In this case Rick C-137 might have encountered Quantum Rick in route to the main chamber.
Logical scenarios between the two would then be:
Rick C-137 killed Quantum Rick then took his robe and disguised himself as him.
Rick C-137 saw Quantum Rick escaping but didn't catch him in time. Furthermore Quantum Rick could have discarded his robe and left whatever else he had in order to take the resemblance of an ordinary Rick and not be a high target. All items of which Rick C-137 would use in his guise as Quantum Rick.
Rick C-137 allowed Quantum Rick to escape and live in exile as long as he left immediately and surrendered his robe and all means of communication to him.
Quantum Rick intentionally left his robe and all other items to Rick C-137 because they were working together. In this case Quantum Rick could have parted; helped Rick C-137 behind the scenes; or been killed by Rick C-137 after he was done being of use to him.
Rick C-137 managed to switch bodies with Quantum Rick.
With these possibilities Rick C-137 would have known that he could impersonate him to get near the rest of the Council in order to kill them without the actual Quantum Rick appearing and revealing himself to the others.
Therefore Quantum Rick could either be dead or alive. If not dead, he may be planning his eventual revenge on Rick C-137 for destroying the Citadel of Ricks and killing his fellow Council members, living a dormant life, or working with Rick C-137; amongst other possibilities.
Gym badge:

Quantum Rick is the second council member that the player battles. To challenge him, the player must beat four Ricks in other dimensions and earn four more badges.
Appearances
Other Media