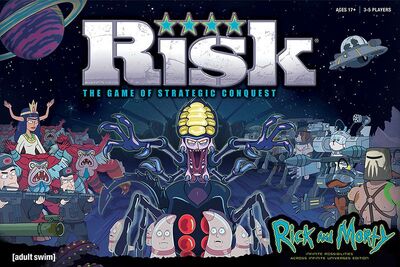 Product Description
Play the classic game of strategic conquest with a Rick and Morty twist. This custom Risk edition features factions of beings from the show, vying for control of Planets and Locations along the Central Finite Curve. The five power driven factions include Mythologs, Robot Dogs, Gazorpians, Post-Apocalyptic People, and of course, the U.S. Government. Each faction will have its own Leader that grants extra power in the territory the Leader occupies.
Product Details
Age: 12+
Players: 3-5 players
Play Time: 60 Min
Contents Summary:
1 Main Game Board
1 Rick Sanchez's Battery Game Board
5 Leader Tokens
5 Stands for
1 Rick's Ship Token
4 Portal Tokens
10 Neutral Unit Tokens
5 Dice - 3 Black (Attack), 2 Blue (Defense)
225 Faction Unit Tokens - 5 Different Colors
83 Cards (5 Faction Leader, 42 Territory, 20 Objective, 16 Reward)
Rule Book
Gallery
Community content is available under
CC-BY-SA
unless otherwise noted.