Jurassic World: Dominion Dominates Fandom Wikis - The Loop
Play Sound
Senthol Diempathate is an illicit, psychoactive, and mind-altering substance of unknown origin first referenced in a memory "flashback" where Memory Rick, Birdperson, and various others are seen partaking in it's effects during an alien music festival.
Memory Rick is initially approached by Birdperson where he inquires about the "freely [distributed] grossly illegal Federation hallucinogen" rumored to openly being shared amongst the crowd. This prompts Memory Rick to admit that he "didn't pay for it", and therefore doesn't know how much to charge in exchange for each hit. The past version of Rick is then seen offering some to Birdperson where they subsequently introduce themselves.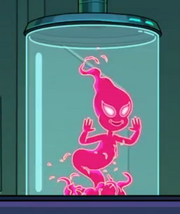 The effects of this drug on the user are unclear, however, later in the episode when Rick and Birdperson are reminiscing the occurrence of their first meeting, Birdperson excitedly recalls the event as being "A great time." which points to it likely inducing euphoria and an uplifting psychological state. The smoke itself gives off a neon fuchsia glow and is accompanied by a high-pitched cosmic chime when exhaled. The visual representation of senthol diempathate is shown in the episode as being in a semi-gaseous form and depicted as emanating from a small vivid reddish-pink "creature" or sprite contained within a sealed vessel.
It appears that Rick (even before experiencing complications with the Best Friend Rejuvenation Sequence) had some amount of the substance in glass containers hidden in a secret compartment behind his corkboard in the garage. It is unknown whether he had previously been using it for recreational purposes, or if he had recently acquired it specifically as a contingency method of restoring Birdperson's fleeting consciousness, should any problems had arisen. This method allowed Rick to get his bearings in Birdperson's mind by triggering a state-dependent memory retrieval with the added benefit of simultaneously providing an exit route to a shared memory to later egress back into the real world.
Trivia
In the episode, it is stated by Birdperson's past memory of Rick during their stage debut that the impromptu formation of The Flesh Curtains was a result of the group's intoxicated mood and decision making while high on the substance.