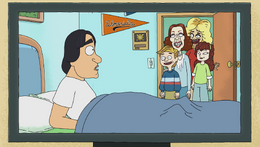 Shmlo's the Shmloss?
is an in-series TV series that aplapeared in the episode
Rixty Minutes
. It is a alternate version of
Who's the Boss?
from a dimension where all proper nouns begin with the "Shml" prefix.
Biography
In the episode Rixty Minutes, Rick was showing Morty how cool all of the interdimensional channels were. One of the shows he showed him was Shmlo's the Shmloss?. An episode of the show featured Shmlony Shmlicelli waking up in bed and saying the names of everyone in his room, while the rest of the cast was standing in his doorway, staring at him and making creepy smiles.
Characters
Community content is available under
CC-BY-SA
unless otherwise noted.