For other versions of Summer Smith, see Summer (disambiguation).
Summer Smith (C-1239) is an alternative version of Summer, she is a popular lesbian girl, she is also the daughter of Beth Smith (C-1239) and Jerry Smith (C-1239), and the best friend and girlfriend of Christina LaCroix (C-1239).
History
This version of Summer grew up with a version of Beth who is allergic to red wine, as a result, her personality had a great change.
Unlike most other of her counterparts, this Summer is an only child, because according to Rick, "A sober Beth was smart enough to only let Jerry knock her up the one time".
Beth Smith attended all of her daughter Summer's childhood events, giving to the girl a better childhood and life.
Beth gave her daughter the confidence to be herself, making her popular at school and accepting her lesbian nature. She kissed her best friend, shortly prior to her alternative version's visit, who reciprocated her feelings.
At several points in her life, she's been attacked by other of her versions who were jealous of her happiness. She walked away victorious each time.
Biography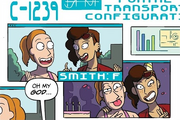 While browsing dimensions on Rick's laptop, Summer came across the Dimension C-1239 with a popular and happy version of her. Then, using her grandfather Rick's portal gun, Summer traveled to this Dimension and ambushed Summer (C-1239) in a dressing room. She knocked her popular version out and switched their clothes.
Summer (C-1239) woke up later that day, just missing Summer's kiss with Christina LaCroix. They were about to fight, but Rick revealed how this dimension Beth is allergic to red wine, and therefor was a better mother toward Summer. Summer (C-1239) returned to her friend Christina to kiss in the middle of the mall.
Trivia