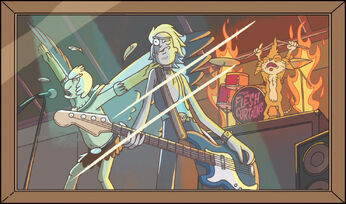 The Flesh Curtains was a band formed by Rick Sanchez, Birdperson, and Squanchy. Presumably, the band dissolved prior to the events of the series.
Trivia
While the band is never mentioned aloud, Birdperson keeps a photograph of the group on his wall as seen in the episode Get Schwifty.
By all appearances, Birdperson was the lead singer, Rick played bass guitar, and Squanchy was the band's drummer.

This band's existence is evidence of Rick's close relationship with Birdperson and Squanchy, his two best friends outside of the family.

In the episode Big Trouble in Little Sanchez, Tiny Rick demonstrates his ability to play guitar when he performs the Tiny Rick Song.
On the Interdimensional Tour 2018, it shows many places that have been shown and/or mentioned.

Earth C-137, the original timeline of the main Rick and Morty.
Pronethean Bebula, the homeplace of Fart.
Doopidoo, a minor planet shown on Close Rick-Counters of the Rick Kind.
Alpha-Betrium, the origin planet of Ice-T (aka Water-T).
J-19 Zeta 7, the timeline where Doofus Rick comes from.
Fourth Dimension, a place mentioned in A Rickle in Time.
Buttworld, a minor planet where everything is human butts.
Dimension 35-C, where Mega-Trees can grow.
Nuptia 4, the best place to fix your failing marriage.
Venzenulon 9, a planet where at night the temperature decreases to -300 F.
Bird World, where Birdperson is from.
Planet Squanch, where Squanchy is from.
Gallery
Community content is available under
CC-BY-SA
unless otherwise noted.