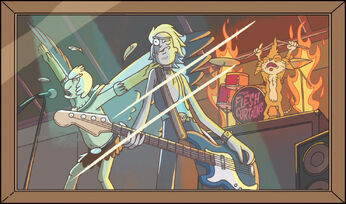 The Flesh Curtains was a band formed by Rick Sanchez, Birdperson, and Squanchy. Presumably, the band dissolved prior to the events of the series.
Trivia
While the band is never mentioned aloud, Birdperson keeps a photograph of the group on his wall as seen in the episode Get Schwifty.
By all appearances, Birdperson was the lead singer, Rick played bass guitar, and Squanchy was the band's drummer.
The band's genre is nu metal, punk rock, and hard rock.
It is influenced by bands like Korn, Limp Bizkit, Green Day, System of a Down, Evanescence, Guns N' Roses, AC/DC, Linkin Park, Queen, Led Zeppelin, Red Hot Chili Peppers, The Offspring, Nirvana, Foo Fighters, Aerosmith, The Rolling Stones, Metallica, Nickelback, My Chemical Romance, and Van Halen.

This band's existence is evidence of Rick's close relationship with Birdperson and Squanchy, his two best friends outside of the family.

In the episode Big Trouble in Little Sanchez, Tiny Rick demonstrates his ability to play guitar when he performs the Tiny Rick Song.
On the Interdimensional Tour 2018 (a t-shirt), it lists locations previously mentioned on the show:
Gallery
Community content is available under
CC-BY-SA
unless otherwise noted.