Jurassic World: Dominion Dominates Fandom Wikis - The Loop
Play Sound
Tom Randolph is a news reporter for an unknown news station, situated in New York. He reported on the gigantic santa claus floating above the US, with its face being above New York.
Another version of Tom later reported on the unstoppable science fiction boy attacking the country's police and military.
Personality
The version of Tom in Dimension C-137 was calm and collected; even when faced with the gargantuan Ruben floating above the entire US, he merely made jokes about Ruben's dead eyes and large red nose.
The Tom in the Replacement dimension, on the other hand, is more hostile and less professional. He insulted and bad-mouthed his co-host just because he was unhappy with the order in which the news stories were to be presented on air.
Biography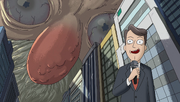 At Christmas, Tom reported on how a gigantic santa claus was floating above the USA, with his huge red nose overshadowing New York. He somehow managed to keep his cool while standing under the largest living thing to float above him, and could fall down at any time. He presumably also reported on the blood rain that followed not long after. Tom was presumably turned into a cronenberg due to the effects of Morty's Love Potion and Rick's efforts to fix everything afterwards.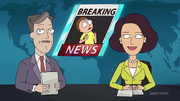 In the Replacement dimension, Tom works as a news reader in the channel studio. He presented the story of an unstoppable science fiction boy attacking the American military and police, before his co-host continued to present another story set to be presented before Tom's. This greatly upset Tom, who verbally expressed his dissatisfaction to his co-host and the two started arguing live on air. He proceeded to insult his co-host and call her crazy, while proclaiming that gaslighting is fake.
Appearances
Episodes
Chart