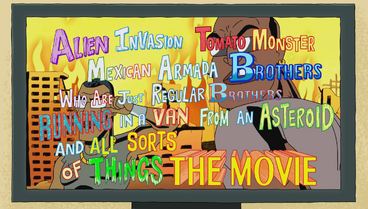 Two Brothers, also known as Alien Invasion Tomato Monster Mexican Armada Brothers Who Are Just Regular Brothers Running In A Van From An Asteroid And All Sorts Of Things The Movie, is a movie that exists in an alternate dimension. The movie's trailer was shown on Rixty Minutes. In the trailer for the movie, two brothers are seen combating the obstacles of meteors, giant cat monsters, a tornando, a Mexican armada with tomato weapons, old gladiator women, and even the moon colliding with the planet. The two brothers can be seen at the end of the trailer appearing overwhelmed by the ridiculousness.
Jan Quadrant Vincent 16, a movie trailer animated and announced in the same exact style as Two Brothers was introduced in Interdimensional Cable 2: Tempting Fate.
Appearances
Trivia
In The Ricks Must Be Crazy, a poster advertising a movie called "Three Brothers" can be seen on display at Egan Cinema. This is actually a prequel mentioned in the comics, where the plot point was a third brother. It is unknown what the prequel was about.

The third brother featured in the poster bears a striking resemblance to the human form of Ice-T.
Community content is available under
CC-BY-SA
unless otherwise noted.