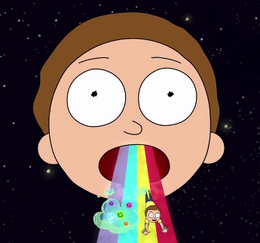 I'm 
Boyariffic
, a fan of Rick and Morty and an admin on the wiki. Okay, well, that stuff is already obvious. I really don't know what to put here, actually. Just leave me a message if you want anything and I'll respond to you. I'm on the internet at all times, because I have no actual life, so don't expect to be waiting too long for a response. Uh, what else ... If you've been blocked, you should be able to contact me. Maybe I'll be able to unblock you. Unless of course you've made an actual dick move, like actually vandalizing shit. But, I know you'd never actually do that. I mean that I'll help you if there's been some sort of argument with another user or something. I don't know. If you can't contact me on this wiki, then contact me on one of the other wikis on my "favorite wiki" list. There's no way you'll be blocked there. There's no way you'll have gone there. All those wikis are totally unrelated to Rick and Morty. I mean, there's Grojband and Fresh off the Boat. What fan of Rick and Morty is also a fan of those shows? Maybe you'd be a fan of Drawn Together. Okay, you know what? Don't freak out if you've been blocked. A simple apology will be understood. Also, you know what? If you have any recommendations about changes being made to the wiki, like the addition or removal of a category. Contact me and ask about it instead of going ahead and doing it, yourself, considering the person reading this is also not an admin either. Make edits to pages, but there are some things you need permission to do and that's one of those things. Anyway, that's it. Thanks for reading my ad-libbed userpage. Bye.
Community content is available under
CC-BY-SA
unless otherwise noted.