Zick Zack is a Floop Floopian warlord who sought to be killed by a great warrior, Rick Sanchez. He was later hit by a car and his spirit was dragged down under the ground by demonic spirits.
Biography
Zick Zack teleported to the Replacement dimension and sought out Rick Sanchez, whom he considered a great warrior. Rick was first surprised to be visited by an alien overlord, before Zick Zack handed him a paper explaining who Zick Zack was and what he wanted; to achieve an eternal orgasmic afterlife by getting killed by a great warrior. Rick was flattered at first, but took Zick Zack to lunch first.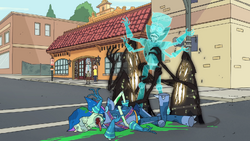 When Rick went to the bathroom, Zick Zack started to doubt his promised afterlife after a conversation with Morty. No longer wishing to die, Zick Zack ran out of the restaurant to escape from Rick, but was hit by a car in the middle of the road. His spirit emerged from his body and was immediately grabbed by demonic spirits, confirming the existence of a Floop Floopian afterlife.
Due to not being killed by a great warrior, Zick Zack's spirit was dragged underground by the demons. As he wails in agony, Zick Zack blames Morty for causing him to be condemned to a terrible fate.
Appearance
Zick Zack is a tall green alien with two legs and four arms; four fingers on the two upper hands and three fingers on the lower two. His head somewhat mushroom-shaped with a broad top part before a more slender part with his face. He has four horns on top of his forehead, a flat nose and and heave brows over two red-shaded eyes.
He's dressed in a gray and blue fight-suit with spikes on the feet. He also wears gloves on each hand and carries a round a scepter.
Trivia
Voice acting for this character was the prize in a contest held by Omaze, in cooperation with Adult Swim, where the criteria was to donate money to Planned Parenthood